The goal in connecting with our neighbors is to create a network to share urgent information and let people raise their hands to request and/or provide help.

We are working to make sure that no one in need is isolated at home and unable to ask for or receive the help they need.
For example, for Tara-Leeway Heights, we have established multiple sections (in colored zones) and with some volunteers (mostly in the southern part), but need more.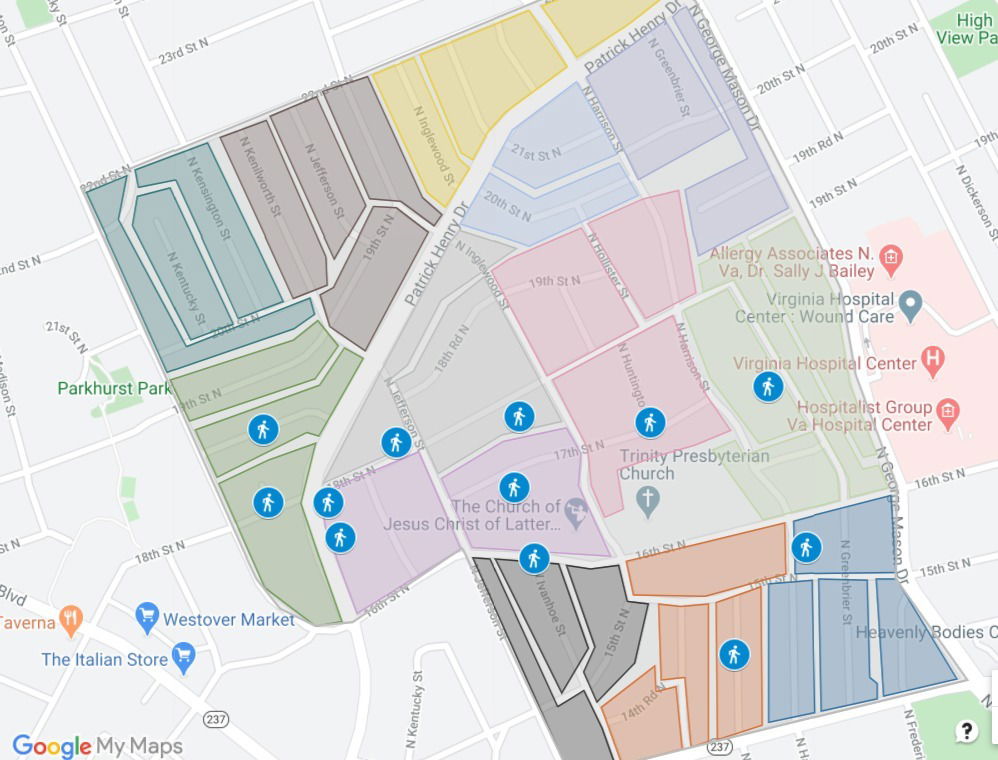 Below is an example of the flyer text that will be going out. Your neighborhood might have a similar variation. Once you sign up for your CA here, you should eventually be contacted with how to help with this phase, if it hasn't happened yet.
SAMPLE FLYER:
Hello Tara-Leeway Heights Neighbor,
The Arlington Community Corps (ACC) is a new, non-profit organization established to make sure that neighbors can help neighbors get through the Covid-19 crisis. Together we can safely give some time and effort to help other area residents. We have two immediate needs for your help: a neighborhood buddy system and a food drive.
Tara-Leeway Heights Neighborhood Buddy System We're creating a buddy system within the Tara-Leeway Heights neighborhood so that everyone who needs help has a neighbor who can assist. That could mean regularly checking in with a neighbor to provide some social interaction, or picking up groceries or medications for them next time you go to the store or pharmacy.
If you would like to volunteer as a buddy, or know someone who needs assistance, please fill out the Google Form located here: , or register on the ACC website: You may also contact a co-captain directly (contact information below).
Arlington Food Drive - We have fellow Arlingtonians in need right now as demand remains high but donations have declined due to COVID-19. The Arlington Food Assistance Center (AFAC) provides 2,400 Arlington families and individuals with supplemental groceries, free of charge: https://afac.org/.
Here's what AFAC needs the most:
*Low sodium & low sugar preferred.
*No glass please!
- Canned Tuna & Chicken
- Canned Soups
- Canned Vegetables
- Canned Tomatoes
- Peanut Butter (in plastic jars)
- Pasta
- Rice
Please leave your food contributions in the box outside 1701 Patrick Henry Drive.
Tara-Leeway Heights is a great neighborhood in good times and bad. We hope you can be part of this initiative to help our neighbors here and throughout Arlington.
Tara-Leeway Heights Neighborhood Co-Captains